No matter where I am, the feeling of being

at home arises from the friendly encounters.
Look forward to an unforgettable holiday in South Tyrol's unique mountains. The residence Alpenrose and its comfortably furnished holiday flats offer you a relaxing and restorative break in South Tyrol.
Our house in Brixen/St. Andrä is situated in a wonderfully sunny location in the low mountain range, directly at the foot of the well-known skiing and trekking area of the Plose mountain. From your holiday flat you will enjoy a breathtaking view at the surrounding peaks of the Dolomites and the nearby glaciers of the Zillertaler Alps.
Arriving, being welcome and comfortably adjusting to our spacious flats – all of this is assured by the residence Alpenrose, which makes your holiday a relaxing experience.

It's been almost 6 weeks, we all miss the mountains and especially the beautiful pool. Yes what can we say, a very well maintained facility. Whether on sunny days the pool or if it was not so nice, an evening in the games basement…read more
Super nice apartments, warm friendly family atmosphere. Fantastic distant view over the Eisack Valley. A great place to spend your vacations; in summer and winter: Be active skiing, biking or hiking….read more
Residence Alpenrose is a perfect place for alpine wellness. Get down, nice encounters, inspiration, nature, sports. The hosts know how to consciously distance themselves from crowded wellness facilities and mass tourism….read more
Apartments in Bressanone/St. Andrea – South Tyrol
Our roomy holiday flats nearby Brixen are completely furnished and they all come with SAT TV, shower/WC, eat-in kitchen, 1-2 bedrooms for 2-4 guests and they also offer fantastic panoramic views.
There are 8 holiday flats with swimming pool at offer, whereas our sun terrace in midst of flowery meadows is particularly popular with our guests.
And with the "Brixencard", which is included in the price, your holiday turns out to be double fun.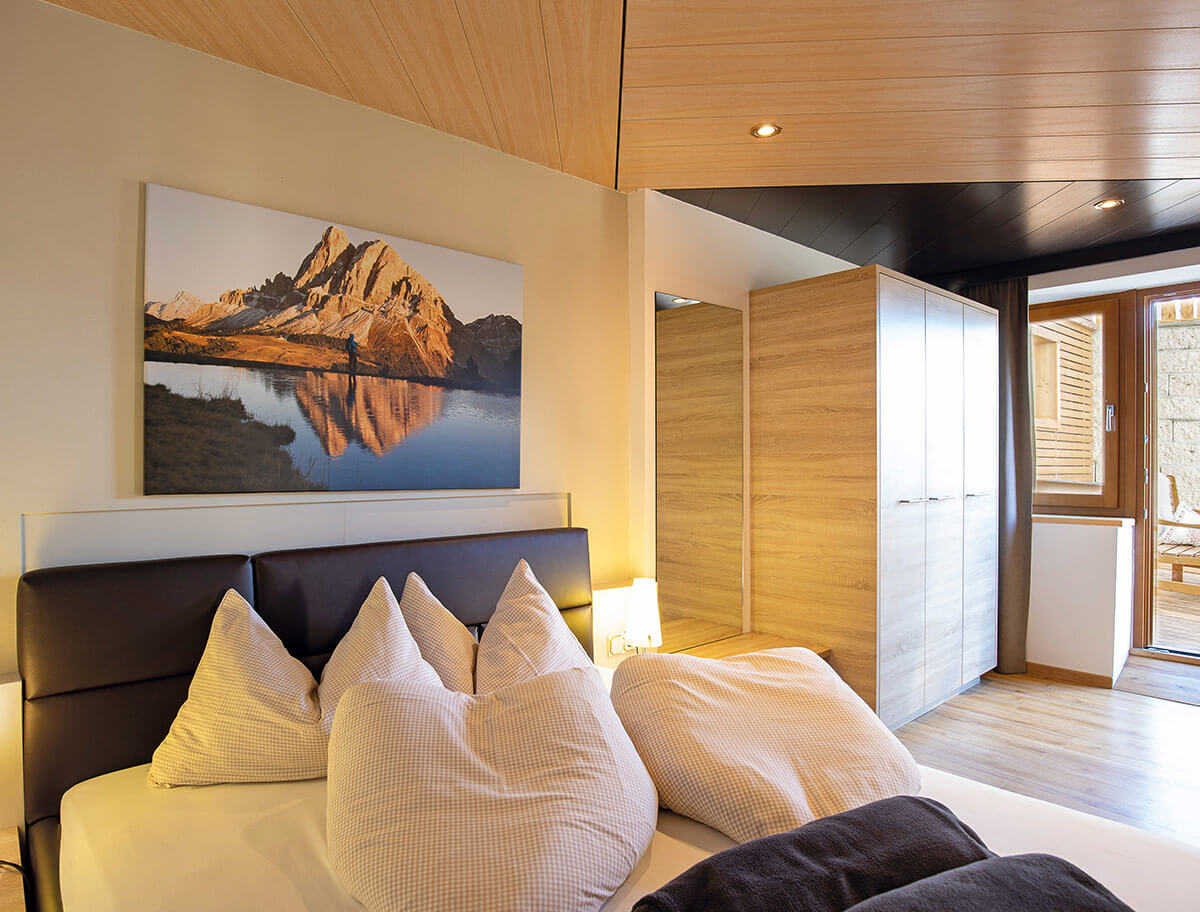 EXPERIENCE & ENJOY SOUTH TYROL
A large choice of different free time and sports activities in the surrounding area provides change and fun during the South Tyrolean holiday. You can start nice walks and trekking tours into the Dolomites' distinctive mountain scenery. If you wish, your host Hubert can give you guided hikes and show you special excursion destinations as well as giving you real insider tips.
For shopping you can go to the nearby town of Brixen, which quickly inspires tourists with its special air, the picturesque lanes and the cultural diversity.
A summer holiday in the South Tyrolean mountains includes awakening to the sound of chirping of birds, putting on your running shoes for a little jog or doing a little yoga or Qi Gong in our garden, followed by a dip in our small feel-good pool. A perfect start to a day perfectly. The fragrant bread rolls freshly delivered by the baker are already waiting for you to enjoy breakfast in your apartment. Climb mountain peaks or simply enjoy hikes on Mount Plose with a breath-taking view of the Dolomites. Experience sunrises on Mount Gabler or grab your camera and drive to Mount Plose at sunset to capture unforgettable moments.
Spring is particularly beautiful in Bressanone / South Tyrol. The first rays of sunshine truly warm your soul. It's the best time to indulge in new beginnings, which spring offers every year. The hiking area Mount Plose or the panoramic hiking trail to the alpine lodge Rossalm are ideal destinations to experience in May and June – how nature comes to life and brings new adventures. This is when the last snow in Bressanone says goodbye and the first crocuses come to light.
However, autumn in Bressanone also offers an unforgettable colour experience that the eye can hardly get enough of. Fresh, tingling air draws crystal-clear contours in the South Tyrolean landscape. The last rays of sunshine warm our hearts and invite you to beautiful autumn hikes on Mount Plose, followed by a break at the many quaint taverns. Photography enthusiasts may indulge in their hobby, admire the landscapes of Bressanone in full colour and capture memories.
Welcome to our holiday flats in Brixen/St. Andrä, welcome to your holiday in South Tyrol,
the Ellemunt family is looking forward to meeting you.
In the winter, the popular ski area Mount Plose is just a few minutes away and offers everything you need for a perfect winter holiday. However, Mount Plose also likes to show its calm side. There, you may experience pure winter stillness. The first flakes gently cover the landscape, and we can only guess what is hidden underneath, finally peace, finally silence, spend time with ourselves, linger. Winter holidays here with us at the Alpenrose offer you peace and quiet. Far away from all the action. Relax in our small sauna, take the time to read an enjoyable book or simply rest.
Winter pleasures – skiing. The first tracks in the snow are always a striking experience. The first skiing days on Mount Plose makes all winter sports enthusiasts happy. Reach the altitude of 2,500 meters by cable car, put on your skis and head down into the valley, even if your calves burn, but if we are honest, that is what makes a really nice winter holiday and makes us feel alive. Special highlights on Mount Plose: the longest downhill run in South Tyrol: the fun park for snowboarders and freestylers (9 km); and the longest toboggan run in South Tyrol (also 9 km).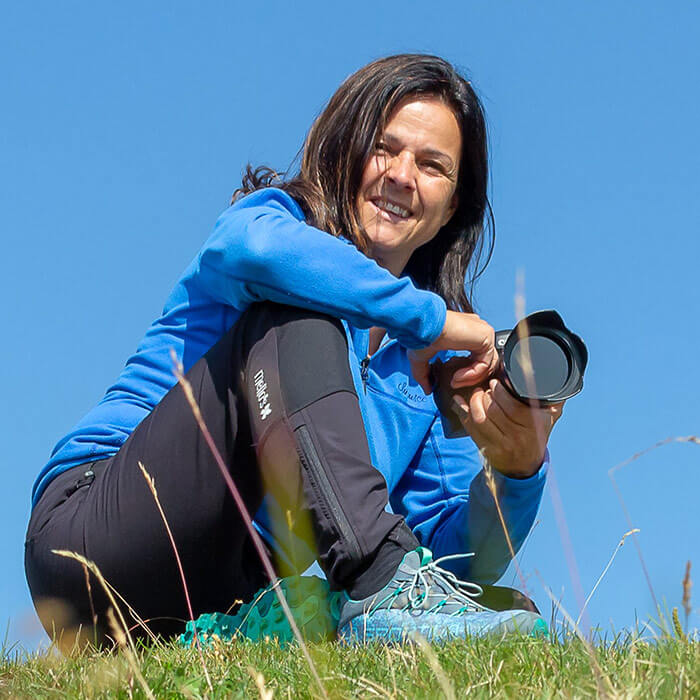 Capture moments. Fog images or winter sun? What is your perfect photo motif?
Hilli: It relaxes me immensely. My camera and I in harmony with nature. Together we discover the sights of South Tyrol. Regardless of the season, Bressanone is truly diverse. It depends on the moment and requires getting involved with the environment. Then suddenly it's there – the perfect moment. No wild chase after the perfect motif, they will come whenever the time is right.
Are you also infected by photography? Then you've come to the right place here at the Alpenrose in Bressanone / South Tyrol. I enjoy sharing ideas about our common passion with like-minded people on a nice evening.
Join us and book your holiday at the Residence Alpenrose!